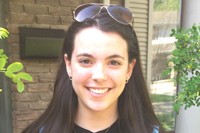 The winner of the Spring 2018 (deadline: March 30, 2018) scholarship is Rebecca DiVincenzo. Rebecca currently attends St. Mary Catholic Secondary School in Ontario. In the fall, she will be attending McMaster University in Hamliton, where she plans on majoring in Engineering.

Message from Recipient:
Thank you very much, Odenza Scholarship Group, for selecting me as your scholarship winner. This fall, my three sisters and I will all be attending post secondary school. Therefore, this money will be very helpful in allowing my parents to be able to provide me with the resources I need to be successful in this upcoming year. I have every desire to help my parents in any way I can, and winning scholarships such as this allows me to do so. Knowing how intense the engineering program is going to be, I know this money will be very helpful in giving me the technological resources I am going to need to keep up with this constantly advancing program. My parents and I are very grateful for your generous scholarship, and intend to use the money to better my upcoming academic year.